Payment Methods
a) Online Banking via iPay88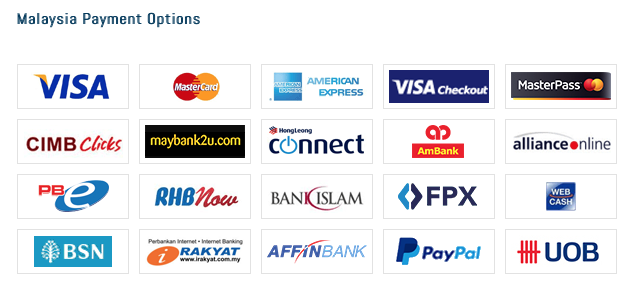 iPay88 offers Online Payment Services to local online retailer or e-commerce merchant in the country. The Malaysia operation arm, Mobile88.com Sdn Bhd is notified under Malaysia's Payment System Act and also PCI Data Security Standard (DSS) complianced. As a leading local Internet payment service provider, the company launched it multi-currency gateway in February in year 2009 and become the first and the only local regulated payment service provider that providing internet payment processing for e-commerce in foreign currency.
FAQ on iPay88 here.
b) Credit Card via Ipay88

Important: Please ensure that you have disabled the "pop up blocker". The payment gateway/online banking payment page may "pop up" for payments to be made.